Marketing Partners
---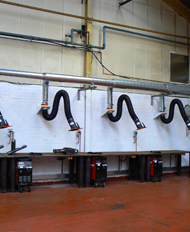 Industrial Fume Extraction, Ventilation & Clean Air Systems
Newgate Air Systems would like to thank our hosts at Airfrost Ltd for giving us the opportunity to promote our products and services on their website. Like Airfrost, Newgate Air Systems is dedicated to making the workplace a cleaner and healthier environment.
Dust Extraction & Fume Extraction in the UK & Europe
With over 15 years experience in the industry, Newgate Air Systems design, manufacture and install fume extraction and dust collection systems for companies throughout the UK and in Europe.
Over the years Newgate Air Systems has worked in almost every industry to produce clean working conditions and to protect the environment. We have an excellent reputation for efficiency and effectiveness which we worked hard to establish and even harder to maintain.
Recent projects have included:
Newgate Air Systems are also able to blow hot and cold with the development of warm air circulation cabinets as well as the installation of bespoke air conditioning systems.
General Fume Extraction & Clean Air Ventilation
Newgate Air Systems are regularly commissioned to provide background ventilation systems in production facilities. These general extraction systems optimise air exchange from a closed area with clean, fresh air to create a healthier working environment. Harmful fumes and particles are filtered out reducing external pollution.
Point of source extraction systems remove fumes generated by specific industrial processes. Targeted fume extraction offers cost saving benefits to clients and is an efficient and effective solution to many problems. Examples of point of source extractions include welding fume extraction or solder fume extraction where extension arms or fume hoods can be fitted over certain areas or move flexibly between work benches.
Combined Fume Extraction & Clean Air Systems
Newgate Air Systems has developed an expertise and a strong reputation in combined fume extraction techniques. Many manufacturing methods produce a mixture of toxic fumes, gases, particles or other pollutants during the industrial process. Newgate Air Systems enjoys the challenge of developing multi-layered extraction techniques. Our clients know they can rely upon on us to design and install an efficient, cost effective clean air solution that is built to last.
Fume Extraction in Garages & Motor Vehicle Workshops
To give a simple example of a combined fume extraction and clean air ventilation system, motor vehicle manufacturers and repair centres often require a combination of fume and dust extraction systems. Newgate Air Systems have developed, manufactured and installed flexible point of source vehicle emission extraction for work bays. These operated alongside spray booth fume and particle extractors. In closed-room facilities such as modern motor vehicle workshop, clean air must also be pumped back into the environment at the same time as contaminants are removed.
Health & Safety Requirements – Safer Working / Lower Costs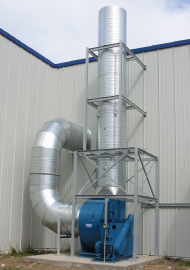 Complying with all health & safety requirements is not just mandatory requirement but it makes good business sense.
Newgate Air Systems is registered with the Contractors Health & Safety Assessment Scheme (CHAS) and all of our installation teams carry Health & Safety Passports & Skillcards. Safety inductions are conducted for all clients and Method Statements & Risk Assessments are generated for every fume extraction and dust collection installation project we undertake.
Further Information / Contact Us
Newgate Air Systems are always happy to talk to new or existing customers about their projects, plans and clean air requirements.
Further information on our services and products is available at www.newgateair.co.uk.
Newgate Air Systems UK Ltd
Unit 1 Marine House
Norman Terrace
Willington Quay
Wallsend
Tyne and Wear
NE28 6SU
Phone: 0191 262 3015
Fax: 0191 234 2885
E-mail: enquiries@newgateair.co.uk
Fume Extraction, Dust Extraction & Collection Systems. Welding Fume & Woodworking Dust Extraction & Collection, Spray Boot Extraction & Ventilation, Air Cleaning Systems, Fume Hoods and Cupboards, Combined Fume & Oil Mist Extraction, Heating, Ventilation & Air Conditioning Systems, Paint Spray Booths, Exhaust and Filtration, Forge Fume Extraction, Quench Tank Extraction, Health & Safety Legislation
Newcastle | London | Glasgow | Bristol | Edinburgh | Liverpool | Manchester | Leeds | Birmingham | York | Bradford | Sheffield | Leicester | Coventry | Wolverhampton | Stoke | Derby | Nottingham | Norwich | Ipswich | Chelmsford | Cambridge | Southend | Brentwood | Basildon | Portsmouth | Exeter | Oxford | Chelmsford | Swansea | Cardiff | Luton | Chester | Preston | Southport | North West | North East | Midlands | Sunderland | Hull | Northampton | Norwich | Ipswich | Colchester | Margate | Ashford | Canterbury | Maidstone | Eastbourne | Brighton | Southampton | Reading | Oxford | Luton | Stoke | Plymouth | Preston | Wirral | Middlesbrough | Carlisle | Perth | Sterling | Aberdeen | Dundee | Inverness | Ayr