Airfrost friends and web partners, Newgate Air Systems Ltd are a UK company providing national and international industries with clean air solutions.
Newgate Air Systems design, manufacture and install fume extraction and dust collection systems. Newgate Air System clients include car production and car repair centres, chemical and pharmaceutical companies, heavy goods vehicle manufacturers, food and drink companies, and the oil and gas industry.
As Newgate Air Systems will tell you, every system is different and one size does not fit all.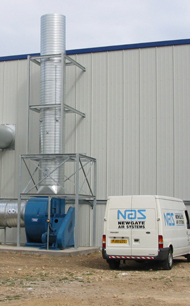 Some companies need general fume extraction and clean air ventilation. This is particularly the case in closed room environments often found in packing and processing plants. Harmful fumes and particulates are filtered from the environment as fresh clean air is brought in.
A common request is for Point of Source fume extraction where a particular industrial process requires fume extraction. Newgate Air  Systems manufacture fume cupboards, extension arms and fume hoods depending upon the nature of the process. In other instances Newgate Air Systems create multi point extraction systems. Examples include production lines and travelling fume sources where the pollutants are created at different places during production.
Many manufacturing methods produce a mixture of toxic fumes, gases, particles or other pollutants during the industrial process. Newgate Air Systems likes a challenge and over the years they have developed an expertise in the design and installation of combined fume extraction techniques.
Fume and dust extraction is a legal and health & safety requirement. Individually tailored clean air and ventilation units from Newgate Air Systems are cost effective and energy efficient. For further information check out the Newgate Air Systems article on the airfrost.co.uk website or visit them at http://www.newgateair.co.uk/index.html.
Newgate Air Systems: Fume & Dust Extraction for Industry